CRM & Support
The InfiPlex platform includes several applications that combine to create a professional support system for your client base. Our CRM combined with our Support Tickets and Knowledge Base will give you powerful online support portal for your users.
Pricing starts at only $29.99 per month.
UNLIMITED Users & Tickets.
View Pricing
Visit our Demo Site to view and walk through the Support Ticket application.
View Demo Site
CRM
InfiPlex includes a built-in CRM for client and contact management. This includes contacts that you add to the system or individuals that create accounts on the site. The Contact's view gives you a quick overview of all of your interactions with that contact.
Integrated with Applications
Shop
Event Registrations
Smart Send email marketing
Projects
Support Tickets
Recurring Payments
Online Invoices
Donations
Future Planned Upgrades:
Lead Management
Sales Tracking
Mobile Web App
Contact Analytics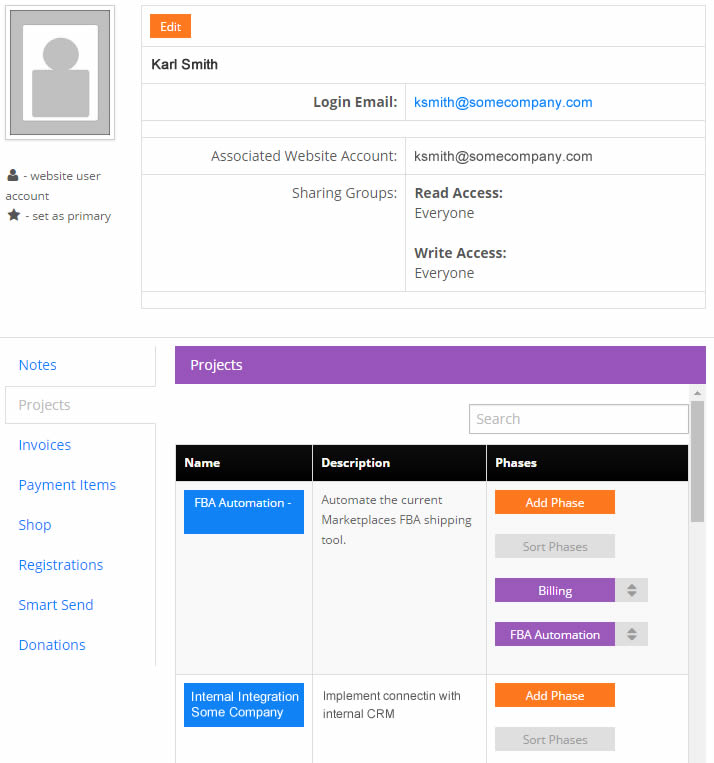 Support Tickets
Our Support Ticket Application offers an ideal way to manage online support for your clients. It offers a full set of features to help you manage support with your clients:
Custom Categories

Create your own list of categories that users can choose from.
Add Team Members to specific Categories who are notified whenever they have a ticket to respond to.

Team Members - Add Team Members who will be responsible for responding to specific Categories set-up in your Ticket Options.
Custom Ticket Types - create your own list of Ticket Types based on your business, like "General Questions", "Installation Question", or "Bug/Error".
Rich TextHTML Replies - support agents can use the Rich Text HTML editor to include images or links in their replies
Include Other Staff - ability to email other staff when replying to bring them into the ticket to help answer, support, or inform them of the situation.
Saved Support Answers - save all of your key answers to quickly and easily include in any future support ticket.
Assign tickets to Users and Clients - integration with the CRM allows you to easily assign tickets to specific users and clients within the CRM. Tickets are automatically assigned if the user uses an existing login account to create the ticket.
Archive of Tickets by User/Client - the Customer Support Portal will archive a users' tickets so they can go back and review past tickets or re-open them if needed.
Custom Auto Response Email - modify your auto ticket response to include your own branding. Includes full HTML source code access to design the email response exactly how you want it to appear.
Works Via Your Support Email Address - Users can open tickets using your support email address and respond back to responses via email. Simply define your support email account, password, and IMAP Server information and users can send you support through that email account. Works with any valid IMAP account, including Outlook/Hotmail.com, Gmail, and Yahoo email.
Optional Knowledge Base - Include a search to your new Knowledge Base that allows your clients to search support articles. The Knowledge Base system uses the Blog Application to allow you easily tag and categorize all of your support articles.
Pricing
Our Starter Package at only $29.99 per month offers any business a cost effective way to manage their ongoing support needs.
CRM/Support
Starter
$29.99
Per Month
InfiPlex with standard non-transactional applications
Standard Shared hosting
No transactional applications included in this package. Upgrade at any time.
For many businesses our Starter Package is all you will need for unlimited client support tickets. Our Starter Package runs on the Amazon Cloud for cost-effective and reliable service. Larger companies who have a very large number of daily support tickets and want extermely fast servers to manage their support area can upgrade to our Semi Dedicated Plus Package hosting option. This option uses Amazon's RDS database servers for an extremely fast and redundant environment.
Your support area can also be designed to match your existing website or you can use the InfiPlex platform to run your whole website. Additional set-up costs may apply for design assistance if you do not have a webmaster or designer to manage design updates.
CRM/Support Starter Package Includes:
CRM Application
Support Ticket Application
Blog Application for Knowledge Base
Projects Application
Smart Send Email Marketing Application
Questions?

Get in touch!
Amazon Today

In-store Pick-up & Same Day Delivery

Amazon Today is Amazon's new same day delivery service and in-store pick-up for retailers who want to leverage the selling power of Amazon.com

Amazon Today
Amazon SP-API

The Definitive Guide to Amazon SP-API

InfiPlex offers instant access to manage your Amazon orders through the new Amazon SP-API.

Amazon SP-API
NetSuite ERP

Integrate All Your Sales Channels

InfiPlex offers the most robust and flexible NetSuite integration in the industry.

NetSuite Integration
3PL Upgrade

Integrate All Your Sales Channels

Upgrade your existing 3PL or get a new one through the InfiPlex 3PL Connector Program.

3PL Connector