Email Marketing

Easier Management With Integrated Systyems

The InfiPlex email management system, called Smart Send™, makes it easy to create dynamic lists. The Smart Send application is tied into the CRM application where you can create dynamic lists that pull from other applications within the InfiPlex platform.

The Smart Send email management system is included as a standard application, so it is available to use with any of our pricing packages.

Below is a list of features that are part of the InfiPlex Smart Send Email Management Application:
Create Your Own Lists
Create Dynamic Lists from other applications:

Webstore / Shop System
CRM Contacts
Website Users
Donations Application
Event Registrations
Payments Application

Schedule Emails
Optional Text Message Sending to Groups through twilio.com or clickatell.com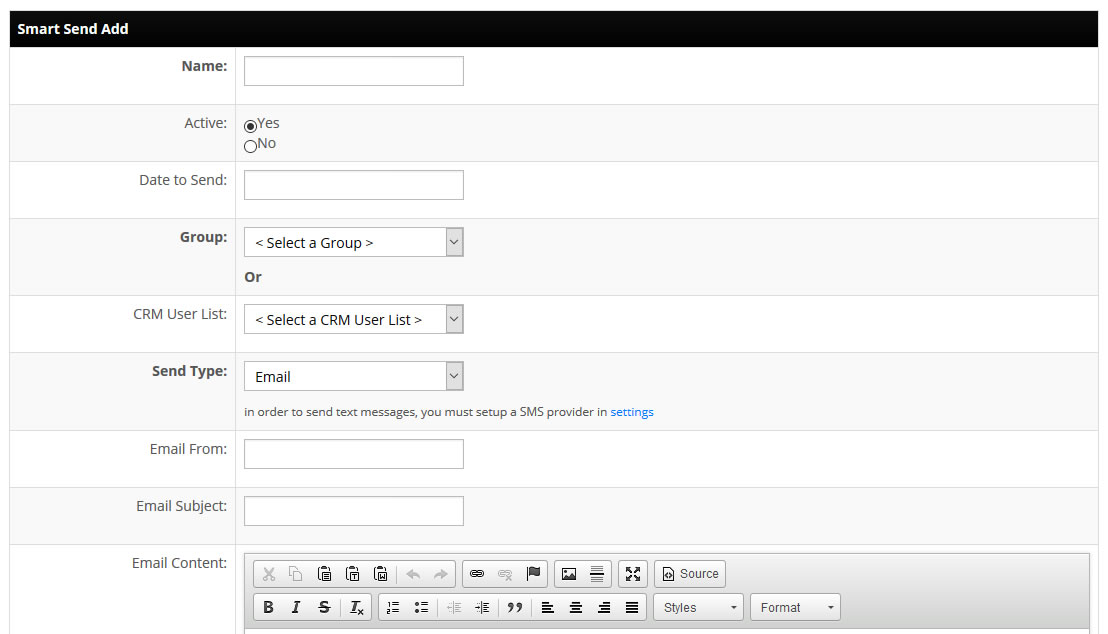 Pricing
Our Starter Package at only $29.99 per month offers any business a cost effective way to manage their email marketing, Projects, or Support Tickets.
InfiPlex with standard non-transactional applications
Standard Shared hosting
No transactional applications included in this package. Upgrade at any time.
For many businesses our Starter Package is all you will need for email marketing, projects, and client support tickets. Our Starter Package runs on the Amazon Cloud for cost-effective and reliable service. Larger companies who have very large mailing lists and want extermely fast servers to manage their email marketing and support area can upgrade to our Semi Dedicated Plus Package hosting option. This option uses Amazon's RDS database servers for an extremely fast and redundant environment.
Your support area can also be designed to match your existing website or you can use the InfiPlex platform to run your whole website. Additional set-up costs may apply for design assistance if you do not have a webmaster or designer to manage design updates.
CRM/Support Starter Package Includes:
CRM Application
Support Ticket Application
Blog Application for Knowledge Base
Projects Application
Smart Send Email Marketing Application
Questions?

Get in touch!
InfiPlex Bridge

Drop-shipping & API Access

eCommerce Solutions for Sellers, 3PL's, Brands, and Distributors.

InfiPlex Bridge
Amazon SP-API

The Definitive Guide to Amazon SP-API

InfiPlex offers instant access to manage your Amazon orders through the new Amazon SP-API.

Amazon SP-API
NetSuite ERP

Integrate All Your Sales Channels

InfiPlex offers the most robust and flexible NetSuite integration in the industry.

NetSuite Integration
3PL Upgrade

Integrate All Your Sales Channels

Upgrade your existing 3PL or get a new one through the InfiPlex 3PL Connector Program.

3PL Connector